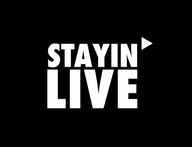 After our first weeks of broadcasting and helping musicians "stayin' live", we want to take a short break to reflect what has happened so far. We have seen a surge of livestreams everywhere, a burst of creativity that has been nothing short of inspirational to watch.
At the same time, there are numerous half-baked rushed concerts that lack a technical quality and artistic grounding. Furthermore, many artists are putting their amazing creativity online for the whole world to see, but so many are not being awarded the deserved remuneration for their work that they so desperately need in these trying times.
We want to use this time to ask ourselves: How can we create meaningful concerts in the digital realm? What are the added values that analog concerts cannot offer? How can we use this moment to create new digital first artistic forms of artistic expression? How can we make sure that artists are also being payed for their important work in the digital world of free culture? Let us know your thoughts, ideas, reflections, and experiences as we move forward together and use this crisis as an opportunity to delve into untrodden paths of personal reflection and creative production.