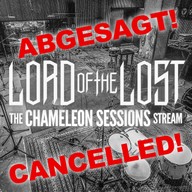 (english below)
Liebe Freunde,
manchmal muss man eine Niederlage einfach hinnehmen, oder sich eingestehen, dass eine Idee zwar gut gemeint war, aber einfach nicht zündet. In diesem Fall geht es um die CHAMELEON SESSION STREAMS, die Euch die Möglichkeit geben sollten, uns vier Samstage lang ganztägig, wie bei "Big Brother" im Studio über die Schulter zu schauen. Der Vorverkauf von lediglich 10 (in Worten: "zehn") Tickets für den ersten Stream hat gezeigt, dass dieses Format anscheinend (so gut wie) keinen zu interessieren scheint.
Wir hatten mit einem rasanten Ansturm gerechnet, da in so vielen Kommentaren in der Vergangenheit nach genau sowas gefragt wurde, immer wieder und wieder. Unsere Erfahrung mit vergangenen Stream-Events hat gezeigt, dass ca. 50% der Tickets bis ca. 3 Tage vor Beginn im Vorverkauf gekauft werden. Wenn wir das nun hochrechnen, und unseren immensen kosten für vier ganztägige Multikamera-Events, inklusive Live-Schnitt, Live-Tonmischung und Personal entgegenstellen, dann rennen wir hier mit Anlauf in ein fettes Minus. Das können wir uns, insbesondere in der heutigen Zeit, einfach nicht erlauben.
Ergo müssen wir leider die Reißleine ziehen. Wenn wir Geld "verlieren", dann sehr gerne für einen guten Zweck, Ihr wisst, wir machen das regelmäßig, und das sehr gerne! Aber wäre in diesem Fall wäre das nicht zu rechtfertigen.
Also, aufstehen, Krone richten, und darauf bauen, dass die nächste verrückte Idee (wie gewohnt) zündet.
Danke für Euer Verständnis (Tickets werden erstattet, Ihr bekommt info von GetNext).
Eure LOTLs
//
Dear friends,
sometimes you have to admit defeat, or at least admit to yourself, that an idea sounded nice on paper, but simply isn't that well received in reality. In this case, it's about the CHAMELEON SESSION STREAMS, which were supposed to give you the opportunity to watch us for 4 consecutive Saturdays, in "Big Brother" fashion, while we're working in the studio. The presale of literally 10 (in words: "ten") tickets for the first stream showed us, that this format doesn't seem interesting to essentially anyone.
We were expecting a massive run on tickets, especially because this was asked for so many times in past comments. Again and again. Our experience with past streaming events has shown that approx. 50% of the tickets were sold in presale, about 3 days before the event. If we do the math on that and factor in our expenses for 4 days of Multicam events, incl. live edit, live mix and personnel, then we'd be flooring the gas pedal towards a rather massive financial minus, which isn't feasible for us, especially in these times.
Thus, we need to pull the plug. If we "lose" money, then we'd much rather do that for a good cause or charity, which we happily and regularly do. But in this case, it is not justifiable.
For now, we'll get up, adjust our crown and trust in the fact, that our next wild idea will take off, as per usual.
Thank you for understanding (Tickets will be fully refunded, you'll be notified by GetNext).
Your LOTLs