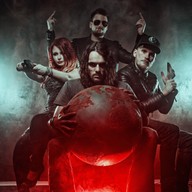 ENG: 🇬🇧 To be honest the actual stop would have been Coesfeld. This was the first time we have been hit with the brutal reality of 2022 live shows.
Due to low ticket sales the show in Coesfeld has been cancelled. On another note Bilzen didn't provide any showers, so Lars from Manticora arranged a stay in Karlsruhe so that we were able to get fresh again and spend a day off before heading to Pratteln.
During that day we self reflected a lot - also about the tour and the impact the Lockdown had on the live music scene. It was numbing to see how much got damaged. Especially as Lars told us the last thing they played was a SOLD OUT Japan Tour. JAPAN. TOUR. SOLD OUT. Let that sink in. And now here we are, struggeling to get even 50 people in the club.
We spent some time to think: "What if more shows will get cancelled? What if the tour needs to stop? Pratteln is a huge place, maybe then people will finally show up." This European tour was indeed special in any aspect. But dealing with frustration must have been the biggest one. Every band had high hopes and was thirsty to play live again - but at what cost? The 40 minutes with the crowd surely was the biggest highlight every day. We eventually forgot the serious situation we found ourselves in. But yet again - what will the future bring? Will things continue like they started?
We now know that many tours - also of big bands - got indeed cancelled. We know now that ticket prises rise. We know now that Nightliner Tours will be just speculation and not the norm anymore. We know that long tours will be getting rarer and rarer, IF you are NOT a BIG band. It feels like these years have cut the rope above the middle big bands who used to make a living from music. So at this point things get harder for Newcomers every day.
So this is the only solution: Giving even more than we are already doing, providing even more that we used to so that people will enjoy our show and music.
In Karlsruhe everyone of us spent a calm day! In the evening the four of us went to a lovely German dinner, prepared for the show to come!
DEU: 🇩🇪 Um ehrlich zu sein, wäre der eigentliche Stopp Coesfeld gewesen. Dies war das erste Mal, dass wir mit der brutalen Realität von 2022 Live-Shows konfrontiert wurden.
Aufgrund des geringen Ticketverkaufs wurde die Show in Coesfeld abgesagt. Da es in Bilzen keine Duschen gab, organisierte Lars von Manticora einen Aufenthalt in Karlsruhe, so dass wir uns wieder frisch machen und einen freien Tag verbringen konnten, bevor es nach Pratteln ging.
An diesem Tag haben wir viel nachgedacht - auch über die Tour und den Einfluss, den der Lockdown auf die Live-Musikszene hatte. Es war erschütternd zu sehen, wie viel eigentlich darunter gelitten hat. Besonders als Lars uns erzählte, dass das letzte, was sie spielten, eine ausverkaufte Japan-Tour war. JAPAN. TOUR. AUSVERKAUFT. Lasst das mal sacken. Und jetzt sind wir hier und kämpfen darum, überhaupt 50 Leute in den Club zu bekommen.
Wir haben einige Zeit damit verbracht, nachzudenken: "Was ist, wenn weitere Shows abgesagt werden? Was ist, wenn die Tournee abgebrochen werden muss? Pratteln ist ein riesiger Ort, vielleicht kommen die Leute dann endlich." Diese Europatournee war wirklich in jeder Hinsicht etwas Besonderes. Aber der Umgang mit Frustration muss der größte Punkt gewesen sein. Jede Band hatte große Hoffnungen und war gierig darauf, wieder live zu spielen - aber zu welchem Preis? Die 40 Minuten mit dem Publikum waren sicherlich das größte Highlight eines jeden Tages. Wir vergaßen schließlich die ernste Situation, in der wir uns befanden. Aber noch einmal - was wird die Zukunft bringen? Wird es so weitergehen, wie es angefangen hat?
Wir wissen jetzt, dass viele Tourneen - auch von großen Bands - tatsächlich abgesagt wurden. Wir wissen jetzt, dass die Ticketpreise steigen. Wir wissen jetzt, dass Nightliner-Touren nur noch Spekulation sind und nicht mehr die Norm. Wir wissen, dass lange Touren immer seltener werden, WENN man keine RIESIGE Band ist. Es fühlt sich so an, als ob diese Jahre das Seil über den mittleren großen Bands, die früher von der Musik leben konnten, durchgeschnitten haben. An diesem Punkt werden die Dinge für Newcomer jeden Tag schwieriger.
Also ist dies die einzige Lösung: Noch mehr zu geben, als wir es ohnehin schon tun, noch mehr zu bieten, damit die Leute unsere Show und unsere Musik genießen können.
In Karlsruhe verbrachte jeder von uns einen ruhigen Tag! Am Abend gingen wir vier zu einem schönen deutschen Abendessen, um uns auf die kommende Show vorzubereiten!