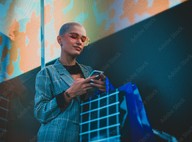 This is a test profile showing how getnext can be used. Right in the beginning text you can upload an welcome introducing video and linking the first rewards. Tell people why are you doing this and what they can expect from you on getnext. Like:
_______________________
Hey guys,
I would like to be connected to you in a more exclusive way and this is why I discovered getnext. You get exclusive content such as podcasts, interviews, pictures, behind-the-scenes videos, insights into the studio... Everything is exklusive and produced especially for getnext. :) You won´t find this content and goodies on Instagram, Facebook, TikTok or YouTube.
Digital Fan Box (Single Reward)
You & Me (Monhtly Reward)
Hoody For You (Merch)
Join the Community and talk with us! :)